At Far Hills Animal Clinic, we recognize that while costs are an inevitable part of the responsibility of owning a companion animal, the reality is that some pet owners find themselves in financial difficulties and are forced to make a decision between caring for their human family or caring for their pet family.
With this in mind, Far Hills Animal Clinic established a fund to help partially cover the costs of medical care for pets whose owners are facing difficult medical and financial decisions. The fund is used at the discretion of Far Hills Animal Clinic and is based on the severity of the patient's illness and the client's financial constraints.
The Katie Fund was originally established by an FHAC client, and has continued to exist due to the generous donations of FHAC staff and clinic patrons. Here is a letter written by Katie's family in honor of her life and the establishment of the fund.
---
"Katie never grew very big which was one of the many ways she surprised us… She was HUGE in our family.
She was with us during the rapid growth and constant changes in our family. Katie never grew physically large and she never grew away from us and loved each of us through all of the commotion.
Katie's fund started out of the heartbreak of missing her and knowing there were other heartbroken families and loving pets needing help.
Many others have felt the same way and have kept the fund going as well… Katie and all of our pets really do bring out the best in us."
Love, Katie's family
---
If you would like to donate, or have questions about the fund, please call Far Hills Animal Clinic and speak to one of our staff members.
For everyone who generously donates to The Katie Fund, we wanted to share a few examples of how their contributions help animals in need. Here are three recipients of the fund.
---
Astrid: A stray brought in by a client, this aging chow mix soon got the treatment she needed to help with infections, as well as vaccines to help her stay healthy. During her stay we also gave her a name, and a great deal of love. She went to live with a rescue organization that cares for geriatric strays.
Lily: Scheduled to be euthanized due to severe skin problems that her owner could no longer afford to treat, we were able to give this Chihuahua a temporary home, prescription food, medicine for her skin condition, surgical repair on both her knees, and a spay. Thanks to our Katie Fund donors, she now has a loving forever-home.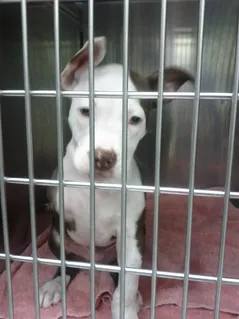 Rooster: This cute little guy was part of a rescue operation for pit bulls. Unfortunately he was born with a deformed front-right leg which needed to be amputated. The Katie Fund helped cover his surgery, and only a day later he was bounding around with no problems. Thank you, Katie Funders!