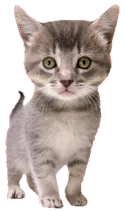 Vet Appointments
We offer many services for cats and dogs, and will do everything we can for your pet here in our clinic, both for your convenience and to keep your pet's health care affordable. Our doctors offer wellness appointments, sick visits, and perform many kinds of surgery on site.
Typically our vet appointment are scheduled for 30 minutes, though it may take more or less time depending on your pet's case. Our receptionists will accommodate your schedule to the best of our ability. In case of emergency call us immediately before coming in so we can advise you on the best course of action.
Please note that we always strive to start your appointment at the scheduled time, but sometimes unexpected complications arise during a prior appointment, or there may be an unforeseeable emergency. Because of this you may sometimes experience a wait. While we understand that this can be frustrating, rest assured that if it were your pet who needed extra time and attention, our doctors would do everything they could for her well-being. Please try to be patient in such circumstances, and we thank you for your understanding and compassion.
Technician Appointments
We also offer appointments with our veterinary technicians and assistants for many services that do not require a vet. These include nail trims, anal gland expression, ear cleanings, puppy vaccine boosters, and more. These appointments are typically about 15 minutes long. If you're not sure whether you need to see a vet, or can see a technician instead, just ask our friendly staff when scheduling.
Emergencies
Because we are a high-traffic practice we work by appointment and are unable to handle "walk-in" visits. In the case that your pet experiences an emergency (such as accidental poison ingestion, hit by a car, bite wound, etc.), we urge you to call us immediately. We will handle emergency cases that we can address, but we are not staffed 24 hours and do not have all of the same equipment as an emergency clinic. If your doctor suspects that your pet's health will be better served by going directly to an emergency center, we will let you know.
Grooming

We do not offer grooming services at this time. The only exception is for long-haired cats who experience excessive hair-matting or other hygienic problems. In these cases we provide a "Lion Cut," which is a close-clipped trim all over the body, leaving the hair longer on and around the head, near the feet, and a poof on the tip of the tail. During your vet visit, ask your doctor if your kitty is a good candidate for this.